The peak season lasts from April/May until October/November. In November many tourist facilities close for the winter.
From November until April there is a low season in Turkey, except for Christmas time. During the winter many hotels sell hotel rooms for half the price or less. Look on the internet for five-star hotels that have great discounts.
Spring (April-May) and autumn (September-October) are the best months to visit Turkey as the weather is good and not too hot. There are fewer tourists in the autumn and the sea is still warm. Summer can be extremely hot, and the tourist locations are full of tourists. Winter can be wet and chillingly cold.
Visas are not required for most European nationalities and some other nationalities if you plan to stay for up to 90 days (Denmark, Finland, France, Germany, Greece, Israel, Italy, Japan, New Zealand, Sweden and Switzerland). You are not allowed to take a job during that time. If you stay longer than 90 days without renewing your visa you will have to pay a fine. Russians can enter for up to 60 days without visa.
People from Australia, Canada, China, Ireland, Mexico, Netherlands, Norway, Portugal, Spain, Taiwan, the UK and the US must have a visa and it is valid for between 30 and 90 days. You can obtain it electronically on the internet.
Your passport must have at least 6 months' validity remaining, or you may not be admitted into Turkey.
Besides the five general holidays above, two important religious holidays are celebrated in Turkey. One of them is şeker bayramı (the sugar festival) or ramazan bayramı, that marks the end of the holy month of Ramadan, Ramazan in Turkish. It is a three-day festival and children go from house to house asking for candy, one visits relatives or go on a trip. The other is kurban bayramı, (the sacrifice festival). The holiday is two months and ten days after the end of Ramadan. It lasts for four days. They celebrate with a lavish meal of newly slaughtered sheep, goat or cow for family and friends. All left overs are donated to the poor. During kurban bayramı, which is the most important religious holiday of the year, almost everything is closed.
During Ramadan when the Muslims fast, they are not allowed to eat or drink from sunrise until sunset. That is usually not a problem for tourists since most restaurants and cafes are open to serve food to non-Muslims during the day. You can be polite though and avoid eating and drinking in public places during daylight hours.
The two religious holidays are celebrated according to the Muslim lunar calendar, so their dates change every year. The easiest way to find out when they take place is to look for it on the internet.
Accommodation choices in Turkey are very diverse and there are plenty of hotels in every price range. The hotel standard varies. Do not look too much at the number of stars because it says nothing about the atmosphere of the hotel or about how it is run but says more about which conveniences there are. There are many good booking websites on the internet where you can find good hotels. There you can also read reviews from other people and see what they thought.
If you travel out of season, November to March (except Christmas time), you can find hotel rooms for half the price or less.
Besides hotels you can find youth hostels with dormitories, family-owned guest houses (pansiyonlar), campsites and self-catering aparthotels.
The Turkish currency is Turkish lira (TL or TRY). Notes come in 5, 10, 20, 50, 100 and 200 lira. One lira comprises 100 kuruş. Coins come in amounts of 5, 10, 25 and 50-kuruş and one lira. Turkey abandoned the new Turkish lira (YTL) in 2009 when they introduced new notes and coins. You can take an unlimited amount of foreign currency into Turkey, but you can bring Turkish lira to the value of maximum US $5000. Remember that you often get a better exchange rate if you exchange currency in Turkey.
Visa and Mastercard are accepted at hotels, car-hire agencies, shops, pharmacies and restaurants. Amex, on the other hand, is not as widely accepted since they have high fees. Sometimes the customer must pay extra for products to cover the fee. Diner's is often not accepted. Shops, hotels and restaurants do not charge a fee if you pay with card, but you might get a better price in some places if you pay cash.
Bank, exchange office and post office
There are many banks in Turkey, and you can exchange currency at banks, but it can take time since the bank's customers are prioritized. There are ATMs that are open 24/7 and there you can use all major credit cards and your pin code. Virtually all of them offer instructions in English and a few other languages, but they will only pay out Turkish lira. Check before you travel if your bank charges you for the withdrawal abroad, which is quite common. Be careful when you withdraw money, especially if someone stands very close to you. Protect your pin code. If you want to exchange foreign currency into lira it is better to go to an exchange office, döviz in Turkish. The exchange bureaus offer faster service, better opening hours and usually a better exchange rate than the banks. Be aware and ask if they take commission. The commission fee can be as high as 10%. You recognize post offices and mailboxes on their yellow and black PTT symbol. Only at the post office and special kiosks can you buy stamps. Normally it takes a week or a bit longer for a post card or a letter to arrive in Europe. Add another week for the rest of the world.
Turkey is still relatively inexpensive for tourists, except for fuel and electronic products. In ordinary shops the prices are non-negotiable but in some places, like bazaars, you are expected to bargain. Take your time and look around. Then offer about half the price the shop owner tells you as a starting point for the bargaining. Do not give an offer if you are not planning to buy anything. However, you do not have to buy anything, no matter how much tea the shop owner has given you. In more exclusive shops you can seldom bargain for the price. You can discuss the price for a fixed taxi price.
Sometimes the service charge, servis dahil, is already included in the price at restaurants. If not, generally you should tip about 10% of the bill. You need not tip taxi drivers. Before you go home you can tip the staff at the hotel by giving them a little sum of money to thank them for the service.
There are different kinds of police in Turkey. Police, polis in Turkish, deal with petty crimes, traffic and parking while jandarma, the military police, deal with more serious crimes and protect the federal government. In small towns where there is no police station you turn to the jandarma. Emergency personnel do not always know English so if you need to make an emergency call it might be a good idea to ask a Turkish-speaking person to make the call for you. You can also go to the tourist police that can be found in many tourist cities.
Dentist
Dental care is inexpensive in Turkey compared to many other countries. It is also very good. At consulates and tourist information offices you can get advice on good dentists who speak English. The travel insurance covers emergency dental care, but not cosmetic surgery.
Pharmacies
Pharmacies, eczane in Turkish, can be found everywhere. The symbol for pharmacy is a capital red "E". Turkish pharmacists are well-educated and knowledgeable. At the pharmacies you can get advice on medicine and buy non-prescription medicines. Most of the pharmacies are open 9 am till 7 pm Monday to Saturday. In every region there is a 24-hour pharmacy (nöbetçi) and the nearest one will be shown in the window of the pharmacy. Most pharmacies have more or less everything you would find at home or it can be ordered, but if you need some medicine regularly it is best to bring enough to last you the whole trip.
Hospitals
There is no reciprocal health agreement between Turkey and any English-speaking country, so it is strongly recommended that you take out private health insurance. For minor problems you can visit a pharmacy and describe your symptoms to the pharmacist. The European Health Insurance Card is not valid in Turkey. Sometimes you need to pay for health care in advance so make sure you save all your receipts. If you need a doctor while you are staying at a hotel, the staff there can usually help you.
There are both private and general hospitals. The private hospitals are usually cleaner, have a better standard, have less paperwork and often have English-speaking staff so as a tourist it is better to go to a private hospital. There are also good public clinics, poliklinik, where you can get help.
Internet Access and Telephone
Many hotels offer a computer in the lobby with free internet access. More and more hotels and many cafes, bars and restaurants have wi-fi connections. There are also internet cafes in some places, but they are becoming less and less common. If you use a local computer, you may have to use a Turkish keyboard. When doing so make sure you use the correct letter when typing in a web or email address.
Most European and Australasian phones work in Turkey. Some north American phones do not, however. Check with your provider. It is expensive to use your mobile phone with an international SIM card, as well as using the phone at the hotel room. It is important to turn off roaming when you are abroad. Otherwise you may get an unpleasant surprise when you get home and the bill comes. It is less expensive to buy a Turkish prepaid SIM card from one of the Turkish network operators e.g. Turkcell or Vodafone. It only works if your phone does not have a SIM lock. There are also a small number of card phones where you use a telephone card. They are available from post offices or in kiosks.
The dialling code for Turkey is 0090. If you are going to call Turkey, you dial 0090 followed by the phone number of the person you are going to call. If the first number in the phone number is a zero, you dial the number without the initial zero. You do the same if you are going to call your own country, but then the dialling code is different. You can find international dialling codes on the internet.
The tap water in Turkey is chlorinated, so it is better to buy bottled water. You can, however, brush your teeth with tap water. For cooking and hot drinks, you boil the water and then it is fine to use tap water. You can find water sources in many different places and they are marked with içilmez (non-potable) or içilir, içibelir or içme suyu (different words for potable).
Many Turks smoke, but it is forbidden to smoke in most public places, in taxis, on ferries, on trains, in shopping malls, at cafes, bars and restaurants. Despite the smoking ban, smoking does occur. Since you are not allowed to smoke indoors the outdoor terraces are very popular with smokers.
99% of the Turkish population are Muslims, but it varies how actively they practice their religion. Most people are very tolerant to people of other religions. Non-Muslims are welcome to mosques but not during prayers. You must remove your shoes and cover your shoulders and knees. Women must also cover their heads.
It is several hundred kilometres from north to south and thousands of metres' difference in altitude between the coast and the mountains, which means that the climate is very diverse. In general it is quite mild and wet during the winter but it is snow and ice-cold in the mountains. During peak season, July-August, the average temperature is 36°C, but the temperature can reach more than 40°C. During April, May, September and October the temperatures are more pleasant and rarely exceed 30° C. In September and October, the sea is still warm.
Turkish pop music is becoming more and more popular and the most famous and well-known singer is Tarkan. Also Hadise and Sertab who both participated in the Eurovision Song Contest are well-known. Sertab even won the Eurovision Song Contest in 2003.
There are many bazaars, markets and shops that attract tourists with their lively. The most important souvenirs are:
-Waterpipes that are beautifully shaped and are being used as decorations even if you do not smoke the waterpipe. -Jewellery made from both gold and silver in unique shapes and with gems sell much. Also the blue glass eye, boncuk, that they think keeps the evil eye away, is very popular. -Ceramics, pottery, porcelain and glass from different regions are popular presents. -Leather goods like shoes, handbags, jackets etc. are good quality at a good price. There is also a big market for imitation designer handbags which is not legal, but they are of good quality. -Handwoven fabrics and embroideries are very popular and are mostly of good quality. -Local delicacies like baclava, Turkish delight, marmalade as well as spices, tea, olive oil, dried fruit and nuts are sold everywhere. Carpets is a more expensive souvenir to buy. The nicest carpets are the ones from Hereke with their soft silk. Take your time and bargain for the price. -There is also fashion to buy. Some great designers manufacture their clothes in Turkey and they are sold in designer boutiques, there are also outlets and imitations of famous labels, but they are illegal even though they sell like hot cakes.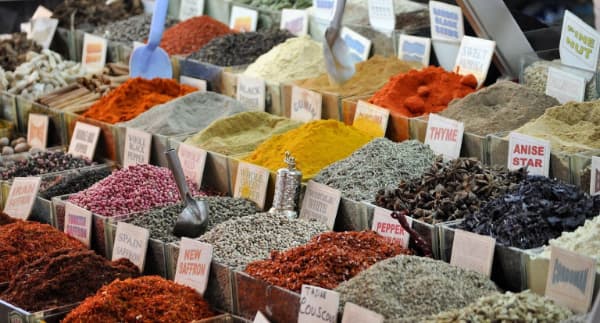 One kind of simple eateries are called lokanta in Turkish. They are simple, good and cheap restaurants with pre-cooked food. Usually they do not serve alcohol. More inexpensive places with self-service are also called bufé. A restoran is nicer with better service but also higher prices. Check where the locals go for food and where there are many people. The food there is often tasty and the meals are fresh. Be careful if you eat from a buffet and only eat food that has recently been put on the table.
The power supply is 220 volts as in continental Europe and two round-pin plugs are the norm. It might be a good idea to bring an international or continental adapter.
The banks are normally open from Monday to Friday from 8.30am-12am and 1.30pm-5pm. Some larger bank offices are also open on Saturday mornings and they do not close for lunch. Usually you need to take a queue number at the bank. The ATMs are open 24/7. The post offices are usually open Monday to Saturday 9am-5pm or 8am-6pm. There are, however, post offices that are open until midnight. Most shops are open 10am-6pm Monday to Saturday, but shopping centres, food stores and department stores are usually open longer. Museums are usually open 9am-5pm every day except Monday or Tuesday. It is best to check the internet for up-to-date opening hours.
Turkey has daylight-saving (summer) time year-round. That means that the time difference is two hours in the summer (March to October) between the UK and Turkey (+ 2 hours) and when the UK has local standard time (October till March) the time difference is three hours. Turkey is then three hours ahead of British time.