Covered in many magazines, entered the list of many travel magazines and selected the best beach in the world in 2006, Oludeniz fascinates those who see its turquoise and blue colour. The landscaped, blue flag beach is 15 km away from Oludeniz Fethiye which is a natural wonderland people who swim there do not want to leave it. It is also known as Oludeniz because it has a very calm sea but its original name is Kumburnu. Because the lagoon at the back of Ölüdeniz is quite shallow, it is highly preferred by people who do not know swimming and families with children.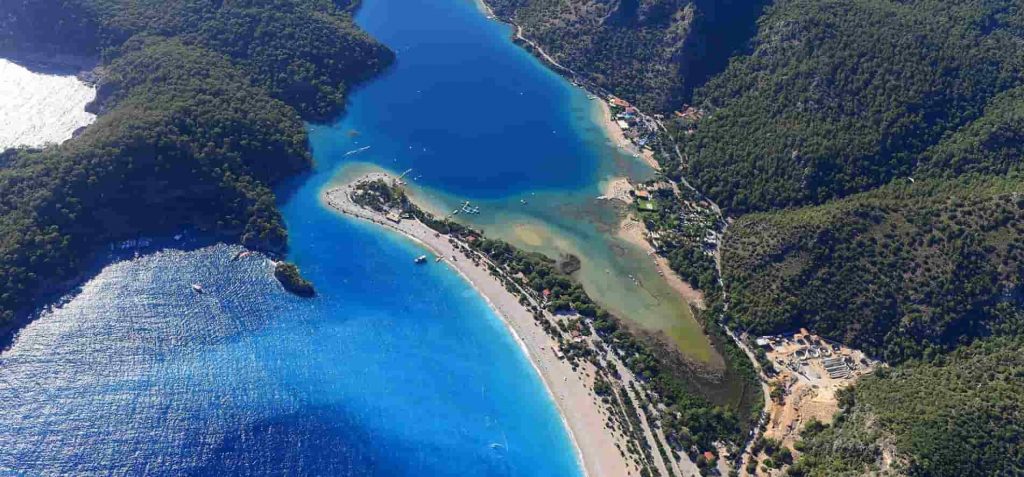 For those who go swimming in Oludeniz, there are different activities such as parasailing, canoeing, snorkelling, renting a bike and visiting Oludeniz within the nature park. Please note that parking is available for a fee for those arriving by car. For those who want to come to Ölüdeniz with minibuses, there is a minibus every 15 minutes departing from Fethiye during the summer months.
Distances to Oludeniz
Alanya Oludeniz 333 km
Antalya Oludeniz 201 km
Bodrum Oludeniz 243 km
Dalaman Oludeniz 54 km
Fethiye Ölüdeniz 15 km
Oludeniz 130 km
How to get to Oludeniz?
You must first come to Fethiye and then go to Ölüdeniz from there. For those who want to come to Fethiye, there are also direct buses to Fethiye from anywhere in Turkey. It is very easy to get to Oludeniz after a 30-minute journey by taxi from Fethiye bus terminal or by Hisarönü-Ölüdeniz minibuses departing in front of the terminal.
Those who want to come to Oludeniz by using the airport should use Dalaman Airport which is the closest to Oludeniz. Those arriving at Dalaman airport can come to Fethiye by taxi, minibus or shuttle services and reach to Ölüdeniz with a minibus. Although it is a bit far for those who cannot come to Dalaman airport, Antalya airport is also among the options.
Do you want to subscribe our newsletter?
You can be informed of updates by subscribing to our newsletter.
You can unsubscribe by clicking the link beneath our emails.